Cute Little Girls Hairstyles
When it comes to hairstyles for little girls, there are so many cute options that are full of personality, and the results often look like works of art with added beads, flowers or bows.
To make doing your little girl's hair easier and less time consuming, we've compiled a list of 30+ little black girls hairstyles that are age appropriate kid-friendly and can last all day being worn by an energetic girl. So next time your little sweetie comes up to you and asks for fun pigtails, french braid or bun for school, scroll down for new looks in this list of cute hairstyles for black girls. Many of them are so simple you could do them on an average
Braided Ballerina Bun
This adorable braided ballerina bun features spiraled box braids in the front and simple cornrows in the back. Because the braids will stay in pace for several days to weeks, the only part of this style that requires daily maintenance is the bun.
Fishbone cornrows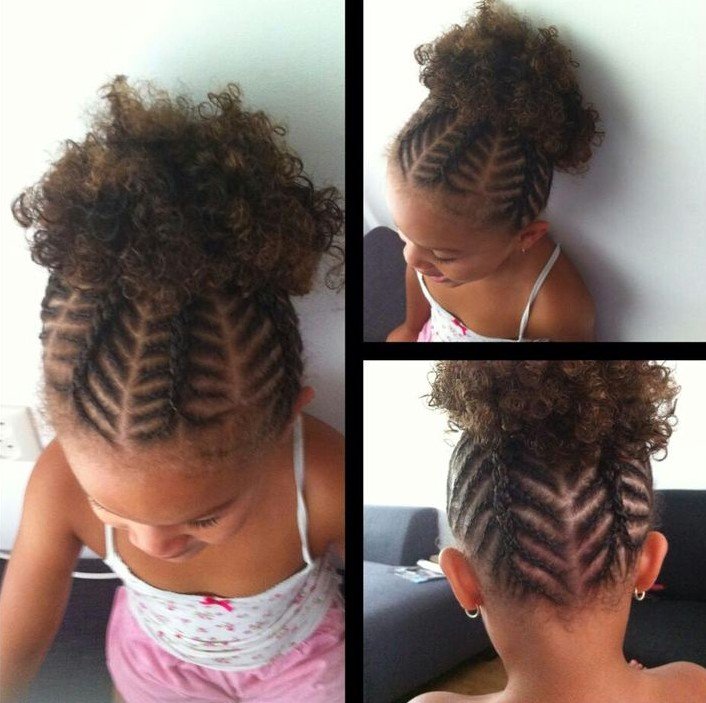 Adding some extra flair and texture, these cornrows are braided in a fishbone style. The puff of curls on top can be styled altogether or in two separate sections, and this is the only part of the hair that needs to be styled daily. For a quick curl refresher, try applying hair oil mixed with water daily.
Minnie mouse hair – kids braid styles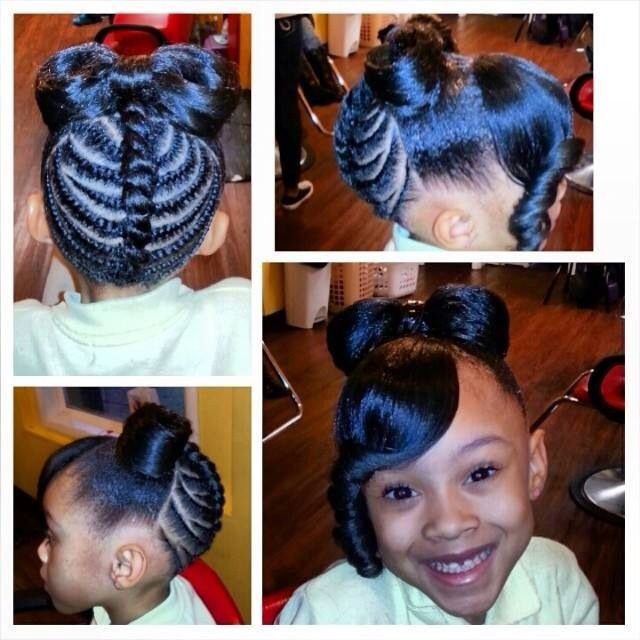 This adorable Minnie Mouse-inspired braided style will have any little girl feeling extra special. Hair is braided and twisted in the back, leading up to the bow on top, while the front is styled in a sassy spiral curl bang. To keep the spiral bang looking nice, try setting it with a perm rod overnight to maintain the curl pattern.
Puff Hawk with side bang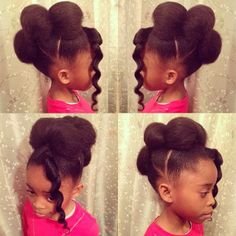 How cute is this? 

A fancy style for a special occasion, this puff hawk is a popular style with adult women, and will have your little girl feeling like she's all grown up. To get this style, part hair in three sections, and tie each one into a fan bun, securing with small pins. Finally, use a curling wand to set the loose section in front in a spiral curl. To maintain this style and prevent breakage, take buns out at night and put hair in a loose twist. This is defintely one of our favorite cute hairstyles for little girls!
Twists Braids Style
A classic girls' hairstyle, hair is set in multiple simple twists, and embellished with colorful barrettes or hair ties that can be changed daily to match different outfits to correspond with your little girls OOTD. This style is an especially good choice for girls with dry hair that requires thorough moisturizing.
Shirley temple curls – Cute little girl hairstyles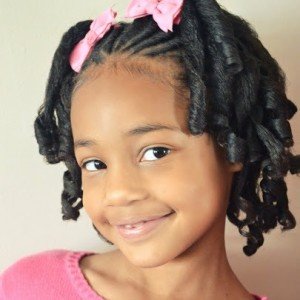 In this adorable retro style, hair is flat twisted in the front and spiral curled in the back. A style with variety, this look can be worn out as pictured, in a ponytail, or even two pigtails. Because twists are not as tight and long lasting as braids, have your daughter wear a satin bonnet at night to preserve the style.
Kiddie french braids – Braid hairstyles for girls


One of the most classic braided styles, french braids are appropriate for women of any age. If you've got an active girl involved in lots of different sports and activities, these easy to install and maintain braids make a great go-to style.
Bantu knot puff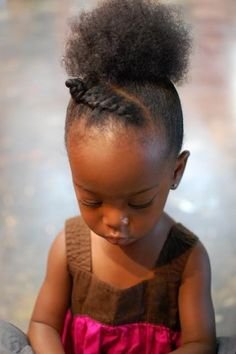 This basic puff style gets some added flair and personality thanks to the flat twist and bantu knot in front. To take this look beyond the everyday, try accessorizing with flowers or jazz it up with hair jewels and headbands.
Mini Twist Natural Hair
This mini two strand twist is a cute protective style for young girls with natural curls. A versatile look, these twists can be worn down, or tied up in a bun, ponytail, or pigtails. To keep twists moisturized without undoing them, combine water and leave-in conditioner in a spray bottle, and mist hair as needed before sealing with your favorite oil.
French braided updo bun


For a sweet ballerina-inspired style, this look features chunky french braided bangs and a braided bun knot. Instead of gel, style with a thick shea butter that will give moisture and hold without needing to be washed out. You can embellish with a bow for a special occasion, or leave as is for a more everyday style.
Fishtail ponytail updo
This little girl's adorable and chic updo comes with big diva attitude, and best of all is easy to put together. Cornrow hair into a high ponytail, and braid loose hair into a fishtail braid, adding texturizing hair spray to help hold the braid.
Jumbo braided hairstyles for girls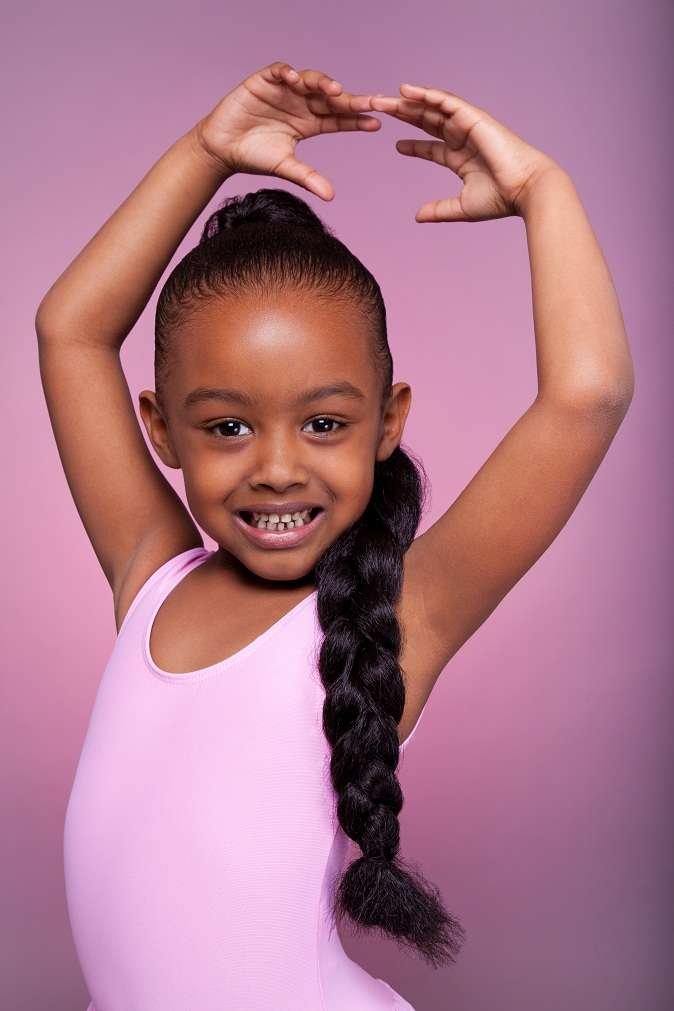 This high braided style is very popular in high fashion and looks just as good on little girls. One of the quickest and easiest styles, you can easily accessorize with headbands or fun scrunchies.
Flower Child – Natural hairstyles for kids
Nothing is more beautiful than seeing natural hair flowing. 

For the perfect mixture of flowing natural hair and manageable style, try this partial cornrow look. Braids in front keep hair away from the face, while the rest of the hair is left loose in its natural state. To get versatility out of this hairstyle, you can do the back in curls, twists, braid outs, or bantu knots.
The formal up do on natural hair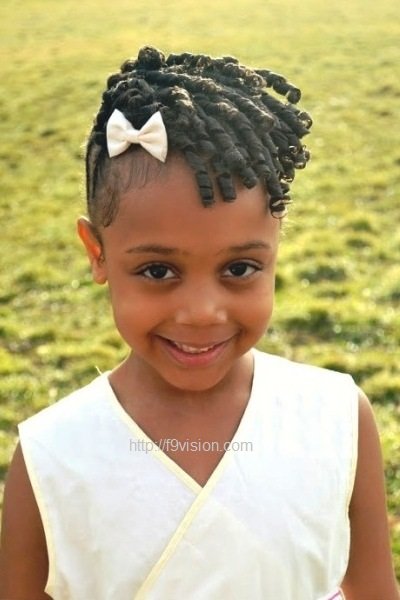 Has picture day come and you're scrambling to find a special hairstyle? This curly updo features hair that's twisted or braided towards the crown of the head, while loose hair can be set overnight in rollers or heat styled the same day.
Curls with Middle Part
This curly natural hairstyle leaves hair loose while framing your little girl's face perfectly. Add a cute hair bow for a little extra fluff!
Braided space buns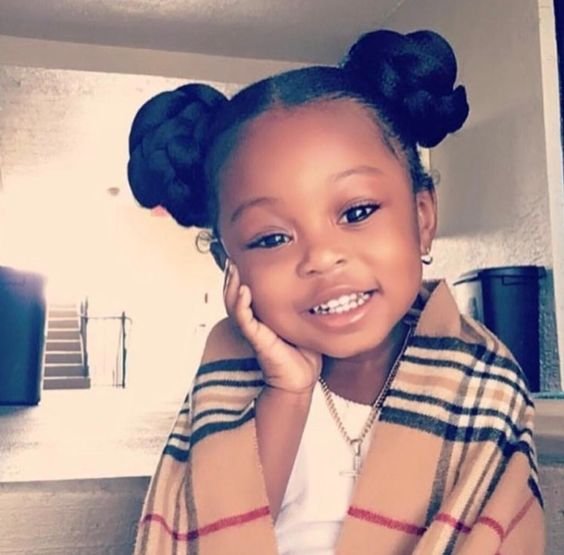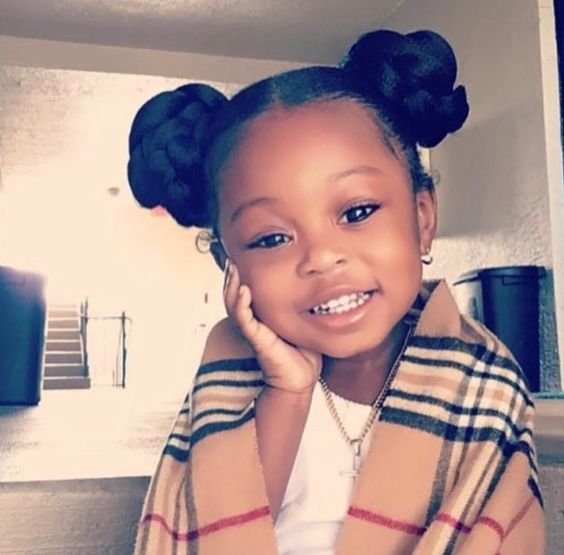 Two is always better than one. We love these adorable double space buns and they are not just whimsy and attention-grabbing, but also comfortable and easy to do (if your daughter's hair is long enough..). How to DIY? Part your daughter's hair in the middle into 2 high ponytails. Then braid each ponytail and simply wrap each braid into a bun.
Mini Fro Little girl hair styles
How cute is this little diva rocking her mini fro?!

This mini afro style is dressed up with two mini braids in front that are finished with beads, making it easy to match this style to any outfit. To keep from needing to wash hair often, avoid using heavy products with this particular style.
Twisted pigtails – Braid hairstyles for kids
A staple of little girls' hairstyles, pigtails are a cute choice for any occasion. These twisted pigtails are a fun, protective style, and sleeping with a satin or a silk bonnet will help maintain them for as long as possible.
Half up half down curls
Even as a child, actress Madison Pettis had gorgeous long curly hair that she loved to show off. A half up style like this is perfect for showcasing long hair while keeping the look neat, structured, and out of the face.
Free Spirit Natural Black Hair


Whether it's through clothing, hair, or the activities they do, kids love to express themselves. Letting your girl wear her hair in its natural state, and allowing her the freedom to choose her own accessories can help her feel important and independent.
Twisted bangs with puff
This is a super cute and comfortable style! These twisted bangs are an interesting look, and conveniently keep hair in place, making it an ideal style for girls who love to run and play.
Edgy American girl hairstyles
Is your girl into cutting edge fashion and out of the box styles? This choppy mohawk cut as seen on Willow Smith can seem like a big step for parents, but if your edgy, wild daughter hates sitting to have her long hair braided, consider letting her try something completely different.
Side braids with beads
How cute is this side braided hairstyle! 

This braided hairstyle keeps hair in place all over, and the colorful beads are the perfect way to involve her own sense of style in the process.
Faux pony braided hairstyles for kids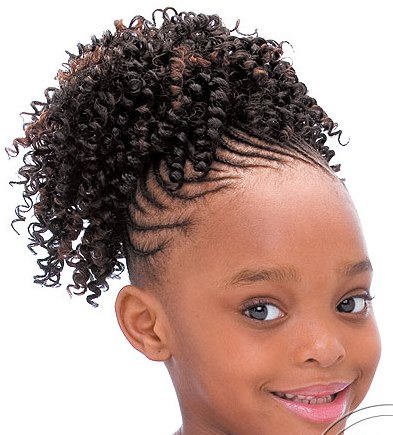 A great protective style that can be switched out literally  every day, these faux ponytails come in a variety of colors that allow for age-appropriate experimentation. So If your little princess is ready to experiment with color these come in different shades of reds, and browns. Natural hair can be braided or twisted in place, depending on your personal preferences.
Heart updo braids for little girls
How creative is this? This creative style features a braid pattern that's a combination of cornrows, box braids, and french braids, and an eye-catching heart detail that your little girl will adore. If you have the skill then try different patterns and designs.
Twisted dreaded buns – Kids braided hairstyles


A great option for little girls with dreads, this style features single dreads that are twisted together and then formed into two buns. Bangs are twisted together and finished off with fun beads.
A simple ponytail
Sometimes a simple pony puff will do. If you're lacking the time to pull together braided or twisted styles, this simple puff ponytail is a quick and easy hair solution. Different headbands or flower accessories can help personalize this style, and will keep it from feeling tired or boring. A must try if you're looking for simple and easy kids hairstyles for girls.
Braided Mini Mouse double bun style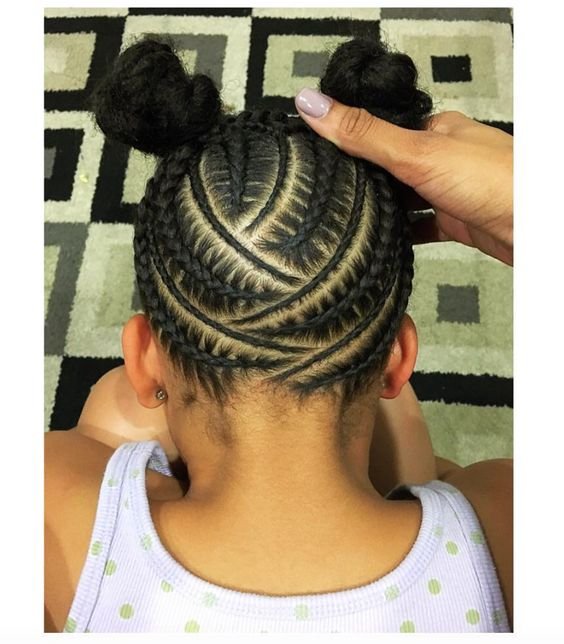 If you're looking for new and interesting protective braid styles for your little girl, these double buns and braids are fun, trendy, and age-appropriate.
Side pony
Bring out the inner diva with this side ponytail! 

This side ponytail puts a simple twist on a classic style, resulting in a sassy look for your little girl. Add satin ribbons or hair pins to give it an extra pop.
Pigtails with twisted double braids
This protective pigtail updo features an intricate pattern of criss-crossed braids down the back of the head. To add some more cuteness accessorize this look with your little girls favorite bows or barrettes.
Crossed Ponytail style with a twist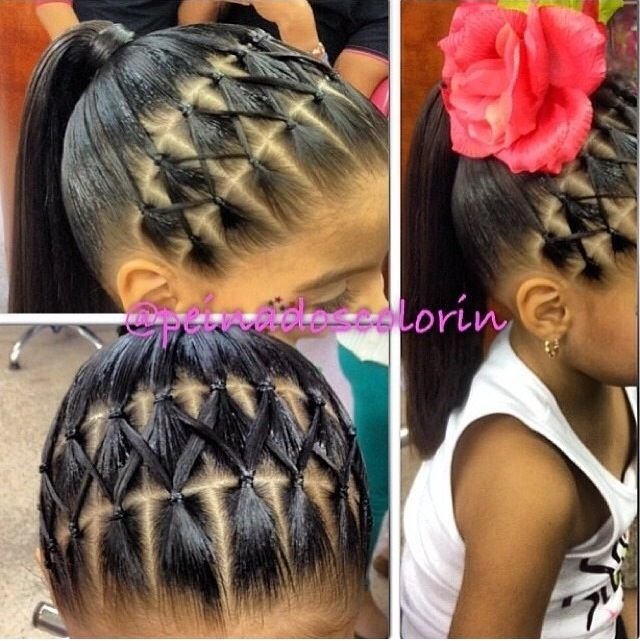 This unique ponytail style is unlike anything you'll see other girls wearing, making it a perfect style for extroverted girls who love being the center of attention.
Cornrows and Beads
You can upgrade your little girls looks with jewelry and beads on her hair. These cornrows decorated with beautiful beads make this look so stylish and cute.
Natural curly pigtails
This is such an easy and super cute look for school! A simple yet gorgeous natural hairstyle for your little girl.
Puff bun and Butterfly Bow braids Styles
This is our last but not least style in our list of black little girl hairstyles. These styles will have your little fashionistas looking like they stepped out of the pages of a magazine, and make for easy stylish choices on almost any occasion.
Braids and Buns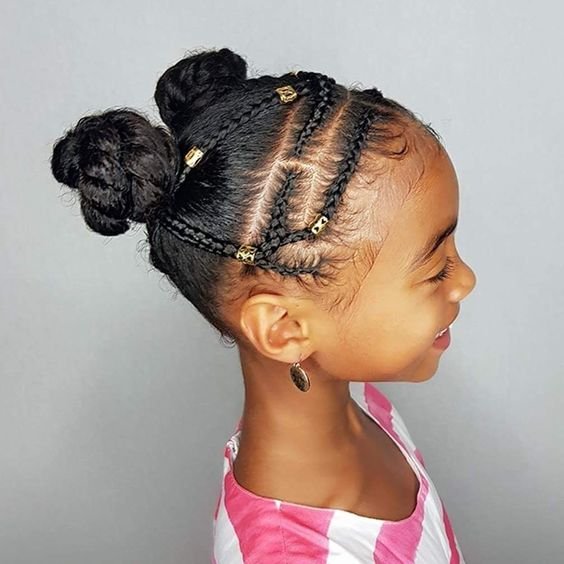 For a unique and stylish look, why not combine 2 styles together? This style is a mix of two simples high braided buns, with tiny braids attached to the head and tied together to the two bigger buns at the back.
Full on braided bun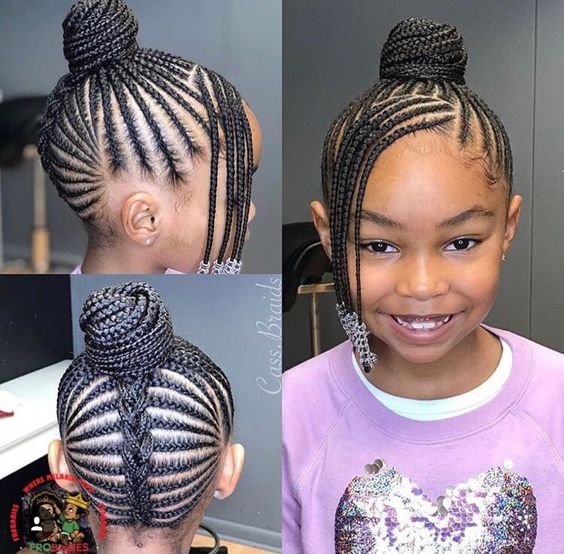 In this style, the braids are attached to the scalp, in the middle back are pulled into one braid while the rest of the hair is pulled up into a high braided bun. At the front, a few braids are braided to one side with added beads.
Hair Jewels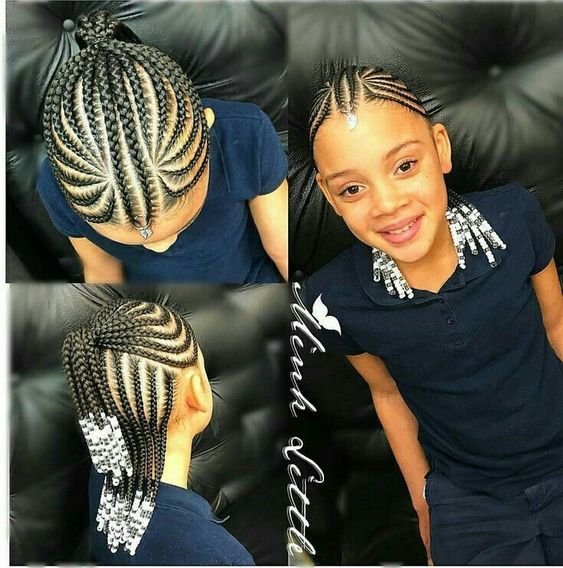 Floating rings are definitely booming in popularity right now! This style is super unique and cute!
Cute Double half Up
Another super cute double braided bun style for your little angel! The braids are attached to the scalp at the front while falling loosely down the back and pulled half into cute buns
Fulani Braids
This Fulani braided style is not only beautiful, but also a great choice for the summer season!
Twist out style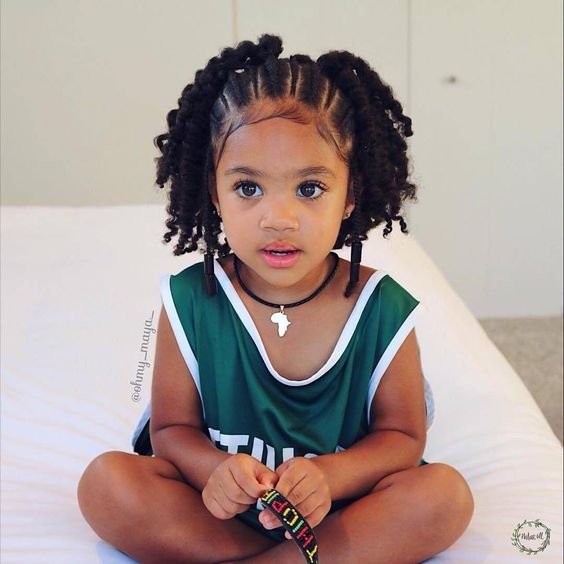 We are lovin' this twist out style!!! This twist out braided hair updo is so adorable for natural hair babies!
Lemonade braids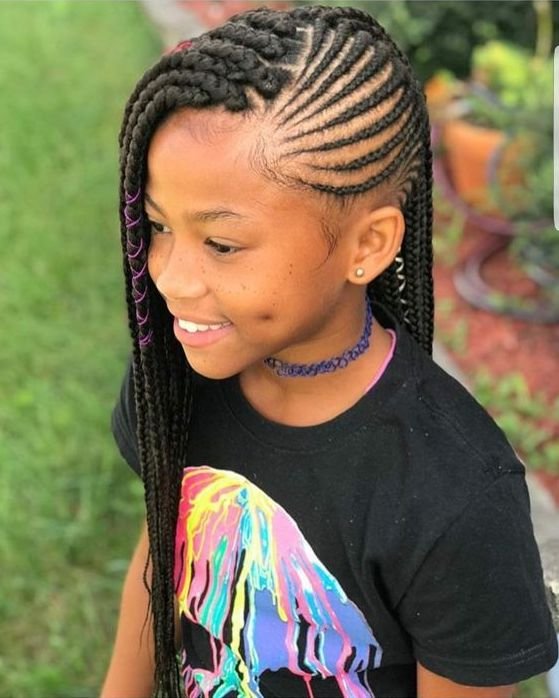 Lemonade braid are hot and look gorgeous on both adults and kids! Jazz up the look with added colored hair strings!
Braid Out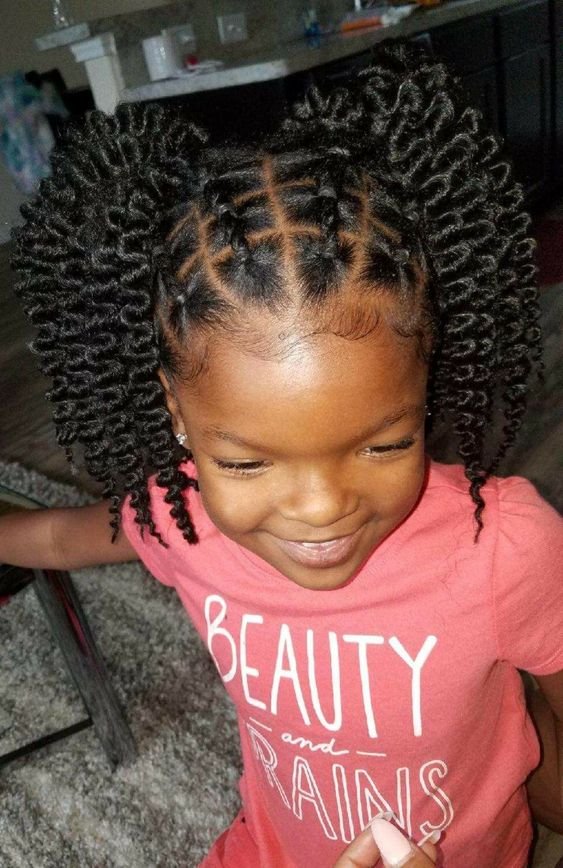 Another adorable braid out style that's also super comfortable for a school day or a Sunday out!
 Colorful beads
Inspired by Queen B, These lemonade braids feed in are an incredible protective style that looks so chic on little girls.
Natural Bantu Knots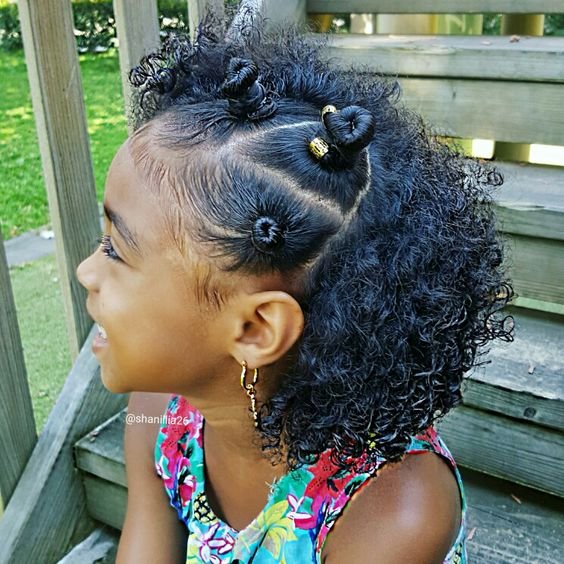 In this natural style, the girl's natural curls are well moisturized and are tucked into a few Bantu knots at the fronts while the rest of the hair is kept loose at the back.
Braided Updo Natural Hair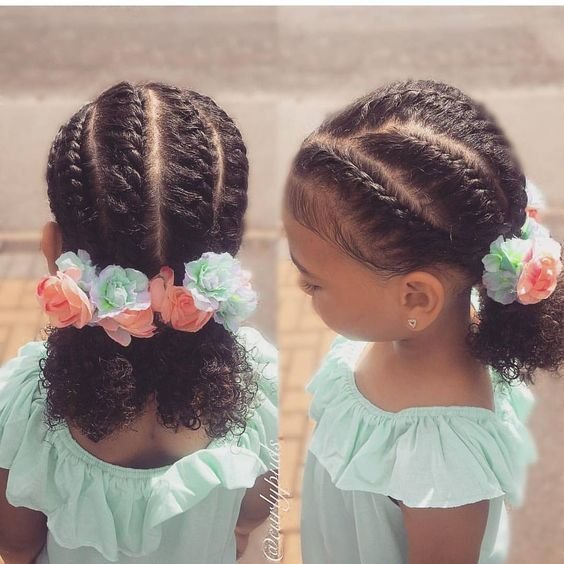 What a gorgeous hairdo for a wedding or a special event. The hair is pulled into four natural braids and tucked at the back into two low ponytails with beautiful flowers.
Passion Twists Bob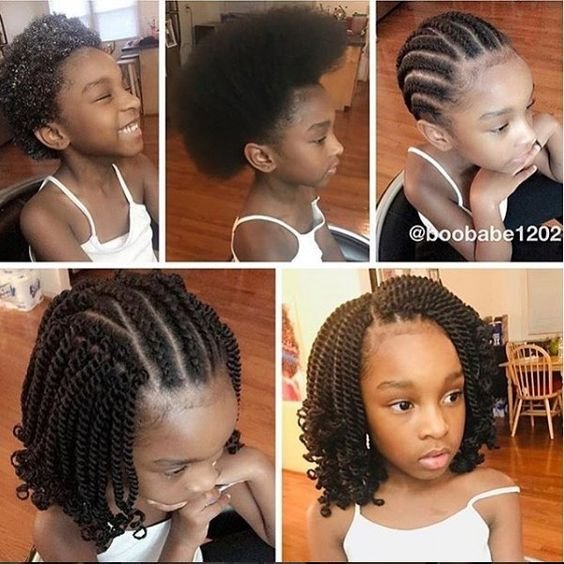 Halo braided cornrows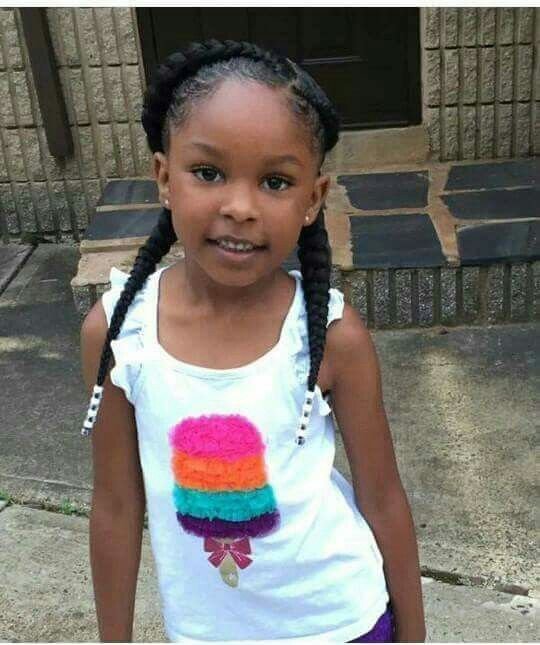 Quadruple braided hair buns
Braided hair pigtails half up
Braided pineapple hair
Long braids and beads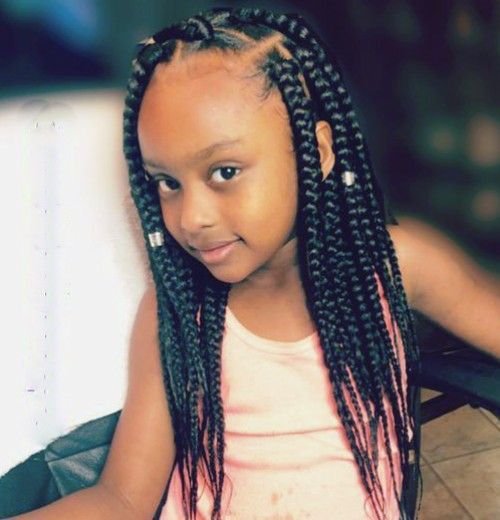 Cornrow braided pigtails with color strings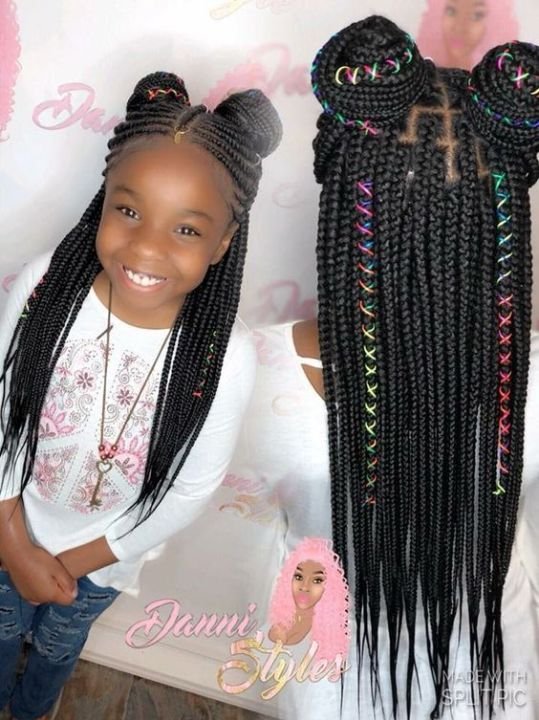 Pulled back cornrows with beads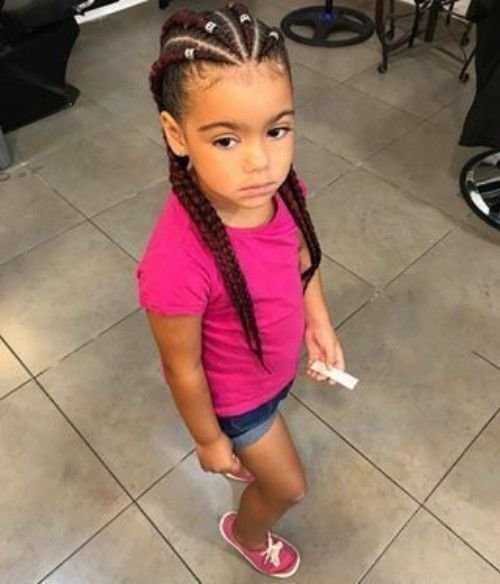 Braided crochet curls for girls for weddings
Curly Fulani inspired braids and beads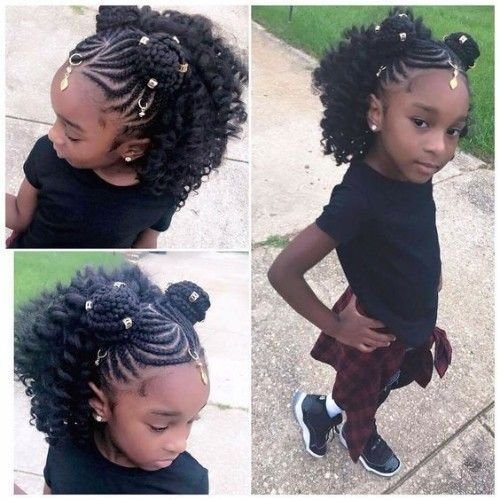 Cute curly pigtails and bow
Double bubble ponytail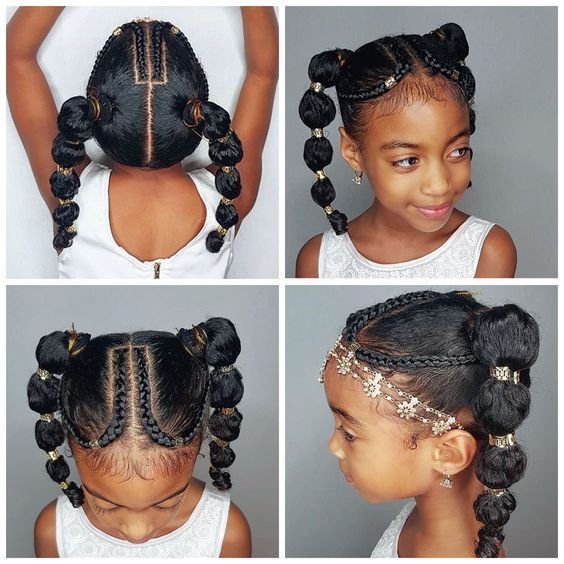 Fulani inspired natural updo with beads
Half up braided curly natural hair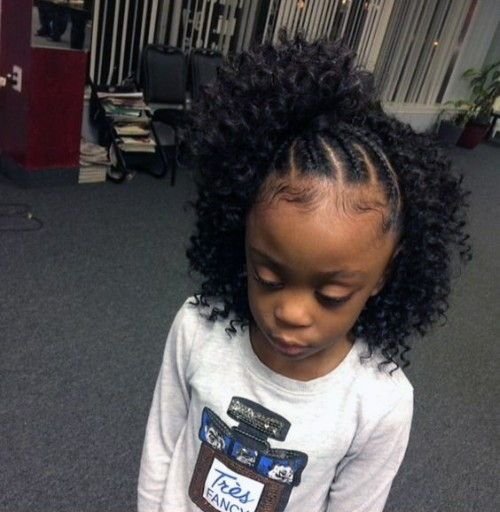 Elegant updo bun & ponytail with beads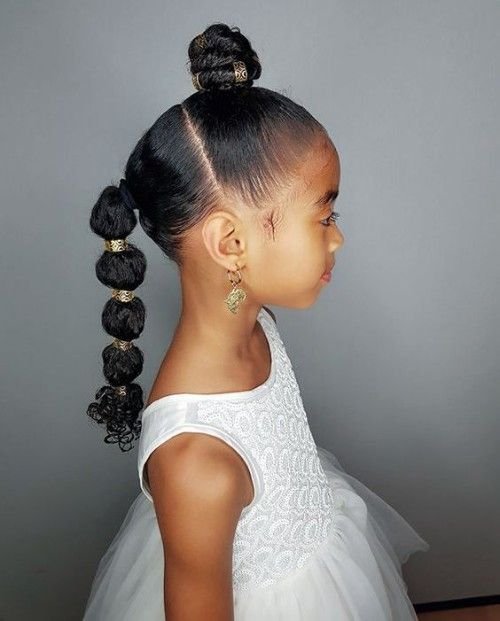 We hope you've found a new style for your little girl in our list of Little Black Girl Hairstyles.
[td_smart_list_end]